There is much talk these days about Cloud and VPS hosting. Many people think that they are the same thing but it is not the case. One needs to be familiar with both these terms if in case you are looking to select one of them for your online business. We will further discuss in detail about vps vs cloud hosting and know how they differ from each other.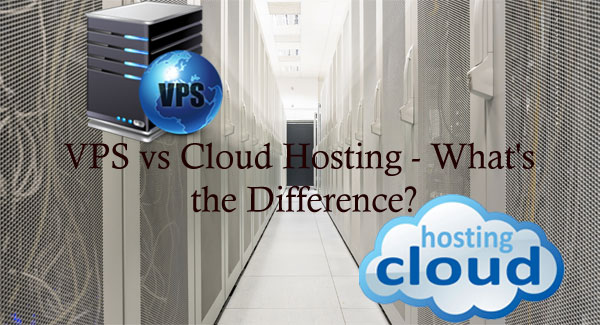 What is VPS Hosting?
A VPS or a virtual private server is a virtual machine sold as a service by an internet hosting service. A VPS is a single server that is distributed between a limited number of users. It is more like a shared hosting, where many user accounts are located on the same server. With VPS, a user gets more control over their share of the server. The users are separated from each other using virtualization software but this does not offer full isolation from your site being harmed if any of the user accounts on your server is hacked or infected by virus.
What is Cloud Hosting?
Cloud hosting is the latest form of web hosting that has been gaining popularity recently. Cloud hosting provides hosting services for website on virtual servers which utilize computing resource from an extensive network of physical servers. They give you high scalability and reliability and you get the power of a dedicated server.
A private cloud utilizes various resources that are distributed across multiple physical servers. So during an event like hardware failure etc, such kind of system gives you fully redundancy to transit to other servers on the network.
Hosting Price
To make it easier to understand and tell the differences in a better way, we take Arvixe as our reference. Arvixe is so far the best web hosting providers and are popularly known for their VPS as well as cloud hosting. Since they are one of the cheapest hosts, we have decided to compare their hosting prices.
Arvixe offers VPS hosting on both Windows and Linux platforms. Their basic VPS plan comes at $40/month with 50 GB of disk space, 1.5 GB memory and 4 CPU cores while the Pro plan charges $70/month which gives dedicated disk space of 100 GB, 3 GB memory with 8 CPU cores.
Now for the Cloud hosting, the basic plan starts at $108/month with 150 GB of dedicated disk space,  4 GB dedicated memory and 8 CPU cores while the Pro plan starts at $129/month giving you 200 GB of dedicated disk space, 6 GB dedicated memory space and 12 CPU cores.
It is very clear that Cloud hosting is way more expensive than VPS.
Features
Talking about their features then both come heavily loaded with features to give you brilliant performance.
Both VPS and Cloud hosting give unlimited data transfer and are fully managed. Starting with VPS first, they come with virtual DVD where you can mount your own DVD directly into your VPS account and access it within the operating system of your VPS. The Hyper-V technology which comes with dedicated memory ensures high level of isolation from users on the same server. VPS hosting usually come with 15 K RPM RAID 10 drives which are best in performance. The protection and security is taken care of using secure exit and entrance, DDoS attack response and robust firewall.
In cloud hosting too, you will get Hyper- V technology, DDoS attack response and firewall support. They have flexible hard drive space, unlimited data transfer and high level of scalable architecture. The cloud servers utilize Dual Intel Xeon processors and Smart cloud speed SSD RAID 10 drives to give you super fast speed.
Location
The main difference between a VPS and a private cloud is the location of the hardware. In Cloud hosting, your private cloud is situated on the site or on your data center. Some of web hosts offer you with hosted private cloud in which they use hardware for their own and is not shared with other users. While on the other hand, a VPS is generally hosted at an off-site or a third party hosting provider.
VPS vs Cloud Hosting – Pros and Cons
In this section, we shall discuss the pros and cons of VPS and Cloud hosting one by one.
VPS Hosting
Pros
They are less expensive than cloud hosting.
There are no file or data access between VPS users on the shared server.
Easy to reboot one VPS account without affecting the others.
Cons
If their physical server fails, then all the VPS accounts based on that server too fail.
Risk of your account being harmed if any of the other VPS user on your server gets affected.
Only one operating system is allotted for each physical server.
No easy scalability.
If a VPS account is taking higher load, then there are chances that your RAM, bandwidth and CPU performance can get affected.
Cloud Hosting
Pros
They have a highly scalable architecture.
They provide high availability. The cloud servers are shifted to another server if their own physical server fails.
With increase in load, none of the other cloud user's RAM or CPU performance is compromised.
You can use custom network architecture, firewall and load balancing.
High level of security is offered. Even if a user on the shared cloud gets hacked or infected, no other user is at risk as their server cloud gets totally separated.
Unlimited storage as they are based on SAN storage.
Cons
Their only disadvantage is their high price. But with the kind of security and speed that you get, it shouldn't be an issue. If you go for shared cloud then they cost comparatively lesser than private cloud.
VPS vs Cloud Hosting – Conclusion
Even if they seemed similar initially, but after going through the comparison between VPS vs Cloud hosting, we know that they are way different from each other. Both are equally good for the growth of your business but if you are running a large scale business where security, performance and speed are the major concerns then without having second thoughts, you should go with cloud hosting.