HostGator is known for its high class service. It is one of the oldest web hosting service provider who is providing services from 2002. They provide good service, but everyone might not get world class hosting experience from HostGator. HostGator Customers who are not happy from its service will definitely look for another web hosting services. If you are not fully satisfied from HostGator web hosting, you'll love this article. We have a list of Alternatives of HostGator web hosting which you should prefer for your websites.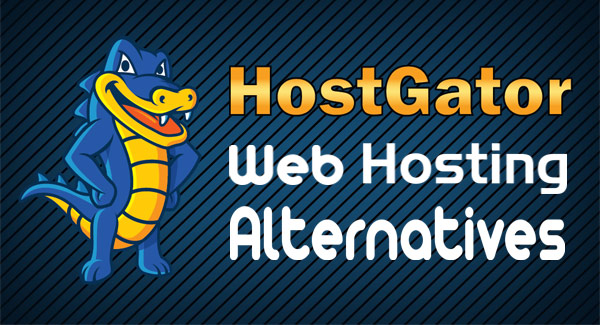 We compared these HostGator Alternatives according to their Uptime, Price, Service, Customer support and other features. These Webhosting providers are very much popular among webmasters and bloggers. We are listing these HostGator Alternatives below. Take a look at them.
Bluehost
Bluehost is another wonderful web hosting service provider which is as popular as HostGator. Bluehost offers cheap webhosting services which will not dig hole in your pocket. Bluehost webhosting plans starts from $3.49 per month for 3 years registration. This pricing is applicable for Standard Shared Hosting plan. In this plan, you can enjoy Unlimited Disk Space to store your site, Unlimited Data Transfer and you can create unlimited Email Accounts with it. With Business plan, you will able to host 3 Domain names on your hosting account with Unlimited Disk Space, Unlimited Data Transfer(Bandwidth) and unlimited email accounts on each account. This plan is suitable for small business owners and bloggers who want to host their websites. Business plan is priced at $4.99/- per month.
In shared Hosting Category, The Last and the best plan is PRO plan. In this plan, you'll not have any restrictions on hosting multiple domains. You can host as many domains you want, Use Unlimited Disk Space and can create Unlimited Email Accounts for website users on single account. Also, you can enjoy Unlimited Bandwidth without worrying about site traffic. This plan will cost you Rs.389/- or $6.49/- per month.
With every hosting plan from Bluehost, you get a Free .COM domain with your purchase. This domain is free for every new registration of Bluehost hosting plans. Also, if you are not satisfied with their service, you can get your money back in 30 Days. Thanks to its 30 Days Money Back Guarantee. One of the best Advantage of buying Bluehost webhosting is their 24/7 online customer support. You can connect with them anytime without waiting for long. They will solve your any queries and problems about webhosting within minutes.
InMotion Hosting
InMotion is another best Alternative for HostGator hosting. InMotion provides Shared hosting, PS and Dedicated Servers at affordable price. In shared hosting category, InMotion offers 3 plans, named as LAUNCH, POWER and PRO. LAUNCH plan is a basic shared hosting plan which is priced at $5.99 per month. You can host only 2 domains on this plan. But you get Unlimited Disk Space and Bandwidth.
POWER plan is a mid-range plan from InMotion. In this plan, you can host unlimited domains on each hosting account. Also, you get unlimited bandwidth and disk space. This plan is priced at $7.99 per month and perfectly suitable for small business websites. And Last Shared hosting plan is PRO. It is suitable for Business sites and Super-serious bloggers. It has same specifications like POWER plan. PRO plan will cost you $13.99 per month.
A Small Orange Hosting
A small Orange web hosting is a fresh name in web hosting market. They refused to give "Everything Unlimited" Offer. You'll not get everything unlimited, but you'll get everything which you need.
They offer SSD hosting for every shared hosting plans which will speed up website loading time. They offer 4 shared hosting plans named as Tiny, Small, Medium and Large plan. Tiny plan is the cheapest plan which will cost you $35 per year. You get 500MB space,5 GB bandwidth. You can host only 1 domain on it.
Small plan comes with 5Gb storage, 50GB Bandwidth and 24/7 Live customer support. It is priced for $5 per month. Other 2 plans from A Small Orange Hosting are Medium and Large Plans. They will cost you $10 per month and $20 per month respectively.
HostGator Web Hosting Alternatives: Verdict
HostGator is a Good web hosting service provider. It is a good hosting service for newbie bloggers and webmaster. But if you are a serious blogger who maintains more than one blogs or websites, you might not feel comfortable with HostGator. If you get such feeling, you should start checking above alternatives. All alternatives we listed here are better than HostGator webhosting in terms of service, price, uptime and many other factors. Choose them as per your need, budget and specifications.