When it comes to creating an effective WordPress blog that attracts not only traffic but also popularity, choosing the best web-hosting service is essential! However, dawn of a huge number of web-hosting solutions has put newbies of blogging trouble when it comes to choosing one from the list, despite the fact that even some experts are confused! Nevertheless, we are sure that you would find two names in list if you check out top web hosting solutions for a blog or site running on WordPress — HostGator & Bluehost, which happen to be the two most popular brands of hosting industry.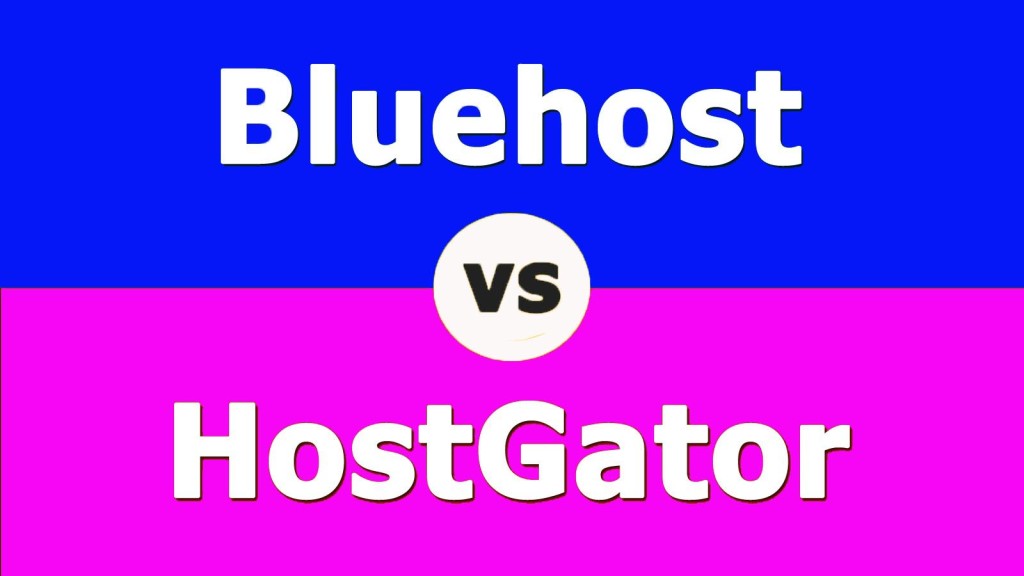 And, more often than not, despite being owned by same firm — EIG — they create confusion among most web-based professionals. In this post, however, we would like to do a comparison between HostGator and Bluehost from perspective of a WordPress blogger, who wants to host and manage his or her WordPress blog in an easy way! In the end, we do hope that you will be able not to bother the Bluehost Vs HostGator issue in selection of hosting. As for majority, shared hosting is the optimum solution when you want to choose an effective hosting solution for your WordPress blog. Thus, we will be considering shared hosting section of both web-hosting solutions.
Bluehost Vs HostGator: Plans and Pricing
Well, to your respite, different shared hosting plans are offered by both web-hosting solutions. First, we'll check out different shared hosting plans of HostGator.
Shared hosting section of HostGator hosting services consists of three plans — Hatchling, Baby and Business! In first plan, you can host only one WordPress blog, although the plan offers unlimited disk space and bandwidth. Plus, you can get a shared SSL certificate to enhance security of your blog as well. The second plan, named Baby, you can host unlimited domains with no particular limits in terms of disk space and bandwidth. In addition, you can grab a shared SSL certificate as well. On the other hand, the third plan of HostGator shared hosting is offering hosting for unlimited domains, accompanied by unlimited bandwidth and disk space. Plus, while purchasing this plan, you can grab private SSL and IP as well.
When it comes to the case of Bluehost as well, three plans are available. First plan of Bluehost shared hosting named starter offers 100GB disk space, unlimited bandwidth and free domain and lets you host single domain name. In case of second plan, however, everything is unlimited and also bags Global CDN. On the other hand, the third plan that is meant for business purposes, offers 1 SSL certificate and IP address along with unlimited resources. The best part of Bluehost shared hosting is the fact that you can have a free domain name with each of these plans. So, if you are in a plan to set up a blog, you can reduce around $10 from budget.
Customer Care
If you are a newbie in blogosphere and do not know much about technicalities of blogging, you should be concerned about customer care section of your web-hosting provider. Now, we shall have a look on those.
HostGator's customer support is known for its excellence since it gained popularity as a web host, and the customer support team is the same reason for sustained growth of HostGator. HostGator, to clear your doubts and make your way smooth, offers different kinds of customer support including live chat and email. More often than not, you can get your queries and issues cleared in a few seconds or a few minutes at maximum. Also, you have an option to get a toll-free-number-based support as well.
Customer support is not that great when it comes to the case of Bluehost hosting! If you let the support team know your issue, you can get reply in a few hours. However, if you are that concerned about quickness of reply, you should better skip Bluehost and go for HostGator.
HostGator Vs BlueHost: Pricing
Well, yes, pricing is an important factor when you have to choose a web-hosting solution, especially if you are a sort of newbie in blogging field. Now, we shall have a glimpse on pricing section of both providers.
Basic plan of HostGator shared hosting is available at a monthly rate of $3.96 and it offers single domain hosting. On the other hand, if you want unlimited resources, you have to pay $6.36 per month.
In case of Bluehost, however, basic plan that offers single domain hosting and 100GB disk space is available at a rate of $3.95 per month, whereas the second plan with unlimited resources needs you to pay $6.95 per month. Yet, it has to be noted that there is a free domain with each Bluehost plan and you can save around $10, which is a great deal!
So, in terms of pricing, we will have to prefer Bluehost to HostGator.
User Interface of Bluehost and HostGator
When it comes to user interface of control panel, both companies are at two extremes. While Bluehost is using truly simplified version of cPanel, HostGator has made it a bit more productive by adding some other features. So, after all, you are the one to make choice. Yet, we guess, Bluehost will be the one to top the list, because the web-hosting provider was successful in implementing sufficient features in the minimalistic version of cPanel. Moreover, at least a few newbies will find HostGator control panel a bit tough to get accustomed to.
Verdict
While considering all these sections of both web-hosting providers, it's clear that Bluehost is the winner in majority of cases. For instance, we can take the case of pricing where Bluehost helps you save around $10 by offering a free domain name. The same level of effectiveness is seen in case of user interface as well. Altogether, in light of what is mentioned above, Bluehost is the best if you are looking for an effective WordPress blog.