From the pool of different web hosting available in the market today, we choose Arvixe as the best option and discuss the benefits of Arvixe web hosting and tell why you should be choosing it.
Arvixe has been ruling the web hosting industry for over a decade since its foundation in the year 2003, in San Luis Obispo by Mr. Arvand Sabetian. It is one of the leading web hosting providers in most of the countries in the world. Arvixe has also made its name to Inc.500 list as one of the America's fastest growing private companies for the year 2011 and 2012. Having established itself in all these years, it has bagged many accolades for its top class performance such as Best Web hosting for budget focused small business in 2015, Best VPS Hosting award, Award of excellence etc to name a few. This makes Arvixe the most popular and trusted partner for many websites owners today.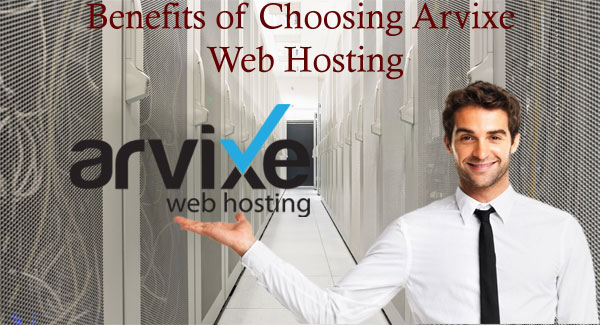 Features of Arvixe Web Hosting
This award winning web hosting has more than one amazing features to offer. Let us discuss one by one.
Email
One of the key features of Arvixe web hosting is that you get to use unlimited email accounts. You also get webmail support, email forwarder and auto responders.
Security and Protection
You get a feature called RV soft backup that offers daily backups to secure your data with regular malware scans to prevent your site from malicious attacks and thus keeping your site totally protected.
Customer support
Yes, it's very true. They indeed provide round the clock support to reach out to their customers effectively. Their 24*7 support comes via two modes i.e. Live Chat and telephone support.
Variety of hosting plans
Arvixe hosting is simply one of the most affordable web hosting with plans starting from as low as $4 per month in their standard personal plan where they offer unlimited disk space, unlimited data transfer, six websites to host with free domain for lifetime use. The business class costs $22 per month which includes a free lifetime SSL certificate. The reseller class offers 50 GB of storage space with 500 GB of data transfer, free domain name and free SSL certificate at $20 a month. The VPS class comes at $40 monthly with 50 GB dedicated disk space, 1.5 GB memory, four CPU cores and two IP addresses. The dedicated class comes with 100% server management, nightly security updates and choice of software as per your convenience.
Benefits of Arvixe Web Hosting
After going through the features in detail, Arvixe certainly serves good on the platter. People trust Arvixe for the maximum advantage that they get in return. Let us now have a look at the benefits of Arvixe Web Hosting.
99% Uptime Guarantee
They guarantee of providing 99% uptime and in case you don't get the guaranteed uptime, you get credit on the fees.
Attractive Discount Coupons
Arvixe offers lucrative discount coupons which one can easily avail and bring down the fees considerably. And there are no extra fees and hidden charges to worry you.
60 day Money Back Guarantee
Arvixe goes an extra mile further in giving the customers their best. They go up to offering a 60-day money back guarantee a bit above the industry standard of 30-day guarantee. One of the best Arvixe Web Hosting benefits that you get.
24*7 Customer Support
They have a dedicated team of hardworking technical support staff who constantly strive to deliver the best performance.
Scalable Architecture
Arvixe provides a scalable architecture wherein you can anytime switch to the higher plans for more traffic according to your needs.
Affordable Plans
Arvixe comes with cheap and affordable plans that start at just $4 with quality service and features.
Free Website Transfer
If you wish to migrate your site to Arvixe, you get it done in no time. With their dedicated support staff, all your database and domain name is transferred with an ease that too free of cost.
Automatic Setup
When hosting your site with Arvixe, all you need to do is make the payments and rest all is taken care of by their team. Your site gets automatically setup in no time and you get the ease of operation.
Conclusion
After going through the features and the subsequent benefits provided by Arvixe, it is needless to say that it is the best pick for web hosting. With the top class performance, security and reliability, you are assured to receive the best value for your money and therefore the preferred choice for many.