Arvixe is one of the most reliable and trustworthy web hosting service. They have been in the hosting business since a long time and I am personally using Arvixe for many of my sites and they haven't disappointed till date. Apart from being so efficient, they are also very affordable because of Arvixe coupon codes from the Arvixe and you can expect some great performance at much lower price as compared to other options that are available in the web hosting market. If your traffic increases over time, you can easily change the hosting plan and upgrade to a newer and better plan.
Arvixe Discount Coupon Code
Here is the Arvixe coupon that you can apply to get some amazing discount: PremeirHosting
How to Apply Arvixe Coupon Code
In this section, we will tell you how you can apply the Arvixe coupon to get the best discount on Arvixe plans.
Step 1: Visit Arvixe.com. For demo purposes, we are going to be ordering the Personal Class Linux hosting which costs about $76.80 for two years.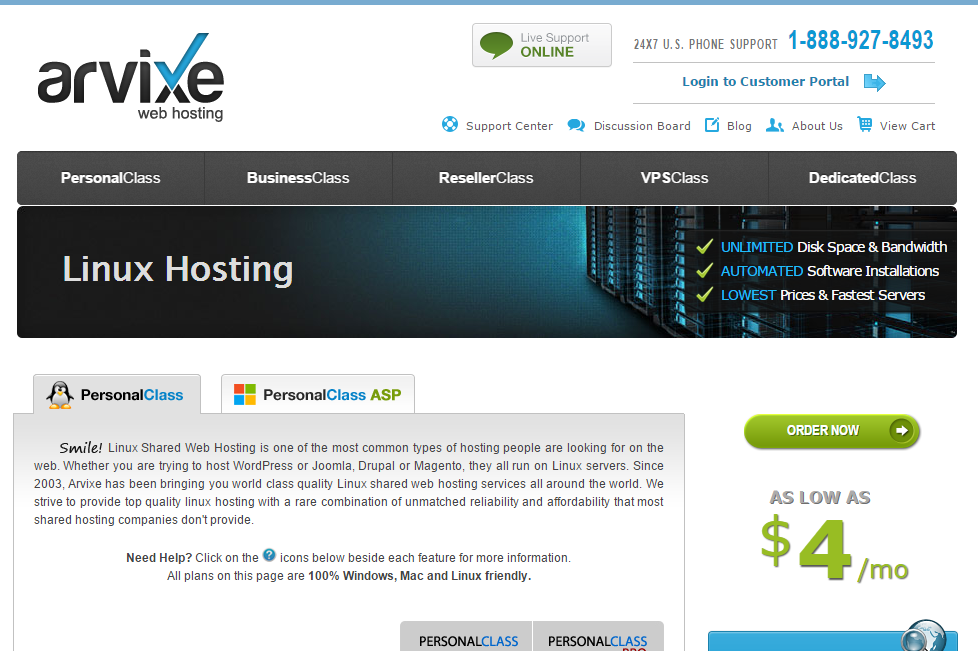 Step 2: Click the ORDER NOW button corresponding to the product page and this will take you to the order page.
Step 3: Choose the product and click Add to cart button and you will be taken to the billing page.
Step 4: Fill in the details in the form and on the right side of the form you will see a text box where you can enter the Promo/Coupon code. Use coupon code: PremeirHosting to get 20% discount.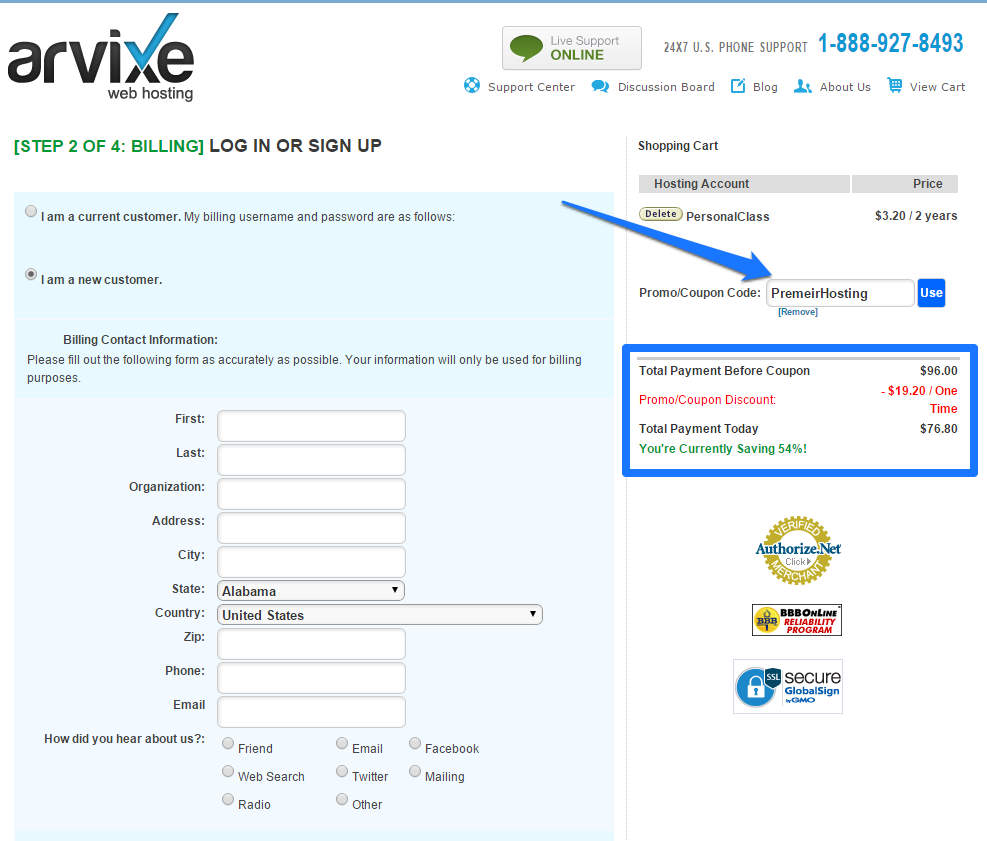 Step 5: You're done.
Hosting Plans from Arvixe
Let us take a look at the hosting plans that Arvixe provides one by one. The hosting prices mentioned below are without using the Arvixe coupon. As mentioned above you'll get 20% discount if you use Arvixe discount coupon i.e. PremeirHosting.
Personal Class
This is the most basic web hosting provided by Arvixe and they start from $4/month which is actually very affordable if you think about it. There are two options in this, one being Personal Class Linux and the other being Personal Class ASP that is suitable to host ASP based websites.
The Linux option starts from $4/month and the Windows hosting in this category starts from $7/month and you can also choose to have several add-ons like a tomcat server etc. which will cost you a few extra bucks per month.
Business Class
This plan is suitable for those who have a moderately heavy resource usage web site as in this plan your website will be hosted on servers that host very few other websites and hence making it better for you as a number of resources at your disposal will be more than enough.
You can also choose from Business Class ASP servers which you can use to host Windows ASP based sites and web apps. The Business Class Linux hosting starts from $22/month and the Windows option starts at $27/month which is actually very nominal. You can opt for add-ons from the list you will see while ordering.
Reseller Class
Maybe you want to be able to create different hosting accounts with one main hosting account. This plan will be the best one for you in that case.
You can buy the Linux plan for as low as $20/month and the ASP option is available at a price of $25/month and you will be able to create more accounts with their own cPanel etc. You get 50 GB disk space with month 500 GB bandwidth along with a domain name and an SSL certificate for as long as you are on Arvixe.
VPS Class
When the traffic and resource usage on your website increases, you should upgrade to a plan where you can breathe free!
Breathing free means you will have full resources to yourself and that is made possible by using a VPS. In VPS virtualization is used to partition the computer resources so that each partition can have its own share of resources. It gives you a virtualized dedicated server like feel and you can have enough resources to keep your website blazing fast!
The VPS Class Linux starts from $20/month and the ASP option starts from $30/month. You can choose from various sub plans and a VPS is good for bigger websites.
Dedicated Class
If you need a server all to yourself, then Arvixe has a plan named Dedicated Class where you can rent a whole server to yourself and use it for a website or a web app if you need some really high specification resources.
There are different plans in this category and they will be based on the specifications that you need. The normal dedicated servers start at $429 per month and if you want to have a cloud based dedicated server, then you can rent it from Arvixe at $108 per month!
Check review video:
Verdict
All in all Arvixe is a great web hosting service provider and it has a lot of plans to offer and you can choose one that suits you the best! If you are looking for a web hosting that provides all you need in a great budget then Arvixe is the provider you should go for.